Liujingtu 六經圖 is a collection of illustrated commentaries on the Six Classics written during the Southern Song period 南宋 (1127-1279) by Yang Jia 楊甲 (jinshi degree 1166), courtesy name Dingqing 鼎卿 or Siqing 嗣清, and supplemented by Mao Banghan 毛邦翰 (jinshi degre 1157).
The book, finished before 1162, includes illustrations, charts and written commentaries on the books Yijing 易經, Shangshu 尚書, Shijing 詩經, Zhouli 周禮, Liji 禮記, and Chunqiu 春秋, with 309 figures for all of these books. In the original version, each fascicle included text and images for one text, resulting in an arrangement of 6 juan. The compilers of the imperial series Siku quanshu 四庫全書 divided the charts and images related to the Zhouli into 4 fascicles, and those concerning the Liji into two, while the others remained in the 1-fascicle arrangement, resulting in a total length of the book of 10 juan.
The Liujingtu belongs to the same type of commentary like Nie Chongyi's 聶崇義 illustrated and commented book on the three ritual Classics, Sanlitu jizhu 三禮圖集注, but is the first surviving book presenting illustrations beyond the realm of rituals. Yang Jia thus followed the principle "to explain the Classics with the help of images" (yi tu jie jing 以圖解經). Yang rectifies some errors and adds images that are not found in Nie's Sanlitu jizhu.
Each part of the Liujingtu begins with general charts and illustrations, and then treats each chapter of the Classic in case, but depending on the matter, some illustrations are commented, and others not, while there are also some paragraphs without illustrations at all, or illustrations without explanatory text. The Shangshu part (ch. 2), for instance, begins with a table giving an overview of lost and surviving chapters and their prefaces of the Classic Shangshu, and then presents family trees of the royal houses. The Liujingtu continues with the Shangshu capter Yaodian 堯典, for which Yang Jia created several astronomical charts and diagrams, as well a a genealogy (Yao jiuzu tu 堯九族圖). The chapter Shundian 堯典 is illustrated by a symbolic "map" of Emperor Shun's inspection tours to the four sacred mountains (Shun xun siyue tu 舜巡四嶽圖), the seven stars and five agents (qizheng wuchen tu 七政五辰圖), astronomical tools, ritual symbols of the nobility, weights and measures, musical instruments and theory, and penal measures. The chapter on Yu the Great 大禹 (Yugong 禹貢) is illustrated with maps demonstrating the locations where Yu was believed to have tamed the rivers and collected tributes.
The map of the regional states presented in the Shijing part (ch. 3) is said to be the oldest surviving printed map of ancient China, created in 1155.
Figure 1. Map of Zhou-period China showing the regional states of the Shijing 詩經 (Guofeng 國風)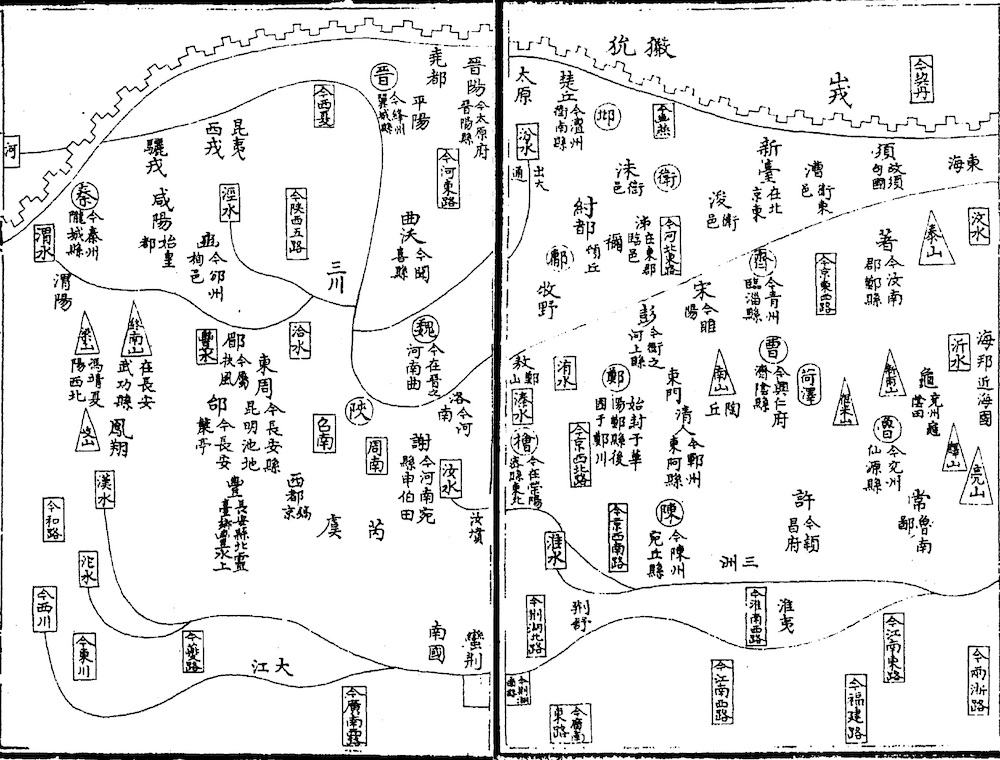 Shiwu guofeng dili tu 十五國風地理圖. Siku quanshu edition.
The charts were cut into stone slabs in the district school (junxue 郡學) of Changzhou 昌州 (today's Dechang 德昌, Sichuan), in the very early 13th century, but they are long lost, and no traces of any rubbing have been come to light so far. Another stone-slab version was created in 1284 by Lu Tianxiang 盧天祥 in the prefectural school (xuegong 學宮) of Xinzhou 信州 (Guangxin 廣信, Jiangxi), also known as Ehu Academy (Ehu Shuyuan 鵝湖書院, Ehu zhi Shutang 鵝湖之述堂). Part of the inscription survives, but in miserable condition. Fortunately enough, rubbings of this version survive. Part of them (i.e. solitary characters) is included in Lu Yaoyu's 陸耀遹 calligraphy dictionary Jinshi xubian 金石續编. In 1743, Zheng Zhiqiao 鄭之僑 (1707-1784) compiled a new book that is a correction of the circulating rubbing of the prefectural school of Xinzhou.
The revised and supplemented version of Mao Banghan 邦翰 and Wu Huifei 吳翬飛 was published and republished several times. This version is also called the Cheng Sen version (Cheng Sen ben 程森本) because the book was published with the support of prefect Cheng Sen, It was reprinted by Ye Zhongkan 葉仲堪. Yang Fu's 楊復 (fl. 1128) Yilitu 儀禮圖 was written as a kind of supplement, presenting charts and images related to the ritual Classic Yili. Illustrated comments on nine Classics texts, Jiujing tushu 九經圖述, were compiled by Zhang Guimo 張貴謨 (jinshi degree 1169).
During the Ming period, Wu Jishi 吴继仕 published the six-chapter book of Yang Jia together with that of Yang Fu, resulting in the book Qijingtu 七經圖. Wu also published a revised edition of the Liujingtu. Further editions of the Liujingtu were published by the Xichun Hall 熙春堂, Lu Qian 盧謙, Wei Jingfang 衛承芳 (1544-1615) from Fuzhou 撫州, Fang Yingming 方應明 (jinshi degree 1604) from Jinling 金陵 (Nanjing), and the Xiuji Hall 修吉堂. Pan Cailong 潘采龍 published the Liujingtu during the Kangxi reign-period, and Chang Dingyuan 常定遠 during the Yongzheng reign-period. Of particular importance is Jiang Weilong's 江為龍 (fl. 1739) edition Zhuzi liujing tu zengding Sishu tu 朱子六經圖增定四書圖, which includes a supplement with charts on the Four Books (Sishu 四書). The largest supplement is Yang Kuizhi's 楊魁植 Jiujingtu 九經圖, with illustrations on nine Classical texts. All these different version are based on two editions, namely the version of Cheng Sen, and Lu Tianxiang's Changzhou stone-cut version.
The best revision of Yang's book was carried out by Chen Rende 陳仁錫 (d. 1636). His Babian jingshi leizuan ben jiujing tu 八編經世類纂本六經圖 was printed in 1626.
Sources:
Chen Hanchu 陳漢初 (2009). "Lingnan renwen tushuo qishi'er: Liujingtu yu Zheng Zhiqiao 嶺南人文圖說之七十二——《六經圖》與鄭之僑", Xueshu yanjiu 學術研究, 2009 (12): 167.
Li Xueqin 李學勤, Lü Wenyu 呂文郁, eds. (1996). Siku da cidian 四庫大辭典 (Changchun: Jilin dauxe chubanshe), Vol. 1, 461.
Qiao Hui 喬輝 (2016). "Yang Jia Liujingtu zhi litu kaolun 楊甲《六經圖》之禮圖考論", Nanjing Shifan Daxue Wenxueyuan xuebao 南京師範大學文學院學報, 2016 (3): 162-165.
Qiao Hui 喬輝 (2018). "Yang Jia Liujingtu shuolüe 楊甲《六經圖》說略", Xinxinbu 新西部, 2018 (5): 88-89.
Qiao Hui 喬輝, Zhang Yurong 張芋榮 (2022). "Zheng Zhiqiao Liujingtu neirong kaoding liu ze 鄭之僑《六經圖》内容考訂六則", Guji zhengli yanjiu xuekan 古籍整理研究學刊, 2022 (1): 11-16.
Wang Min 王敏, Xu Ziqiang 徐自强 (1980). "Shike Liujingtu ji 石刻《六經圖》記", Guojia tushuguan xuekan 國家圖書館學刊, 1980 (3): 34-37.
Wang Qianjin 汪前進 (1993). "Shike Liujingtu zongkao 石刻《六經圖》綜考", Ziran kexueshi yanjiu 自然科學史研究, 1993 (1): 83-90.
Wu Changgeng 吳長庚 (2003). "Liujingtu bei shukao 六經圖碑述考", Kongzi yanjiu 孔子研究, 2003 (2): 71-79.
Wu Changgeng 吳長庚, Feng Huiming 馮會明 (2003). "Liujingtu beiben shuben zhi liuchuan yu yanbian 《六經圖》碑本書本之流傳與演變", Jiangxi shehui kexue 江西社會科學, 2003 (2): 64-68.